Temporarily out of stock. Tracer Hit Light Club Pak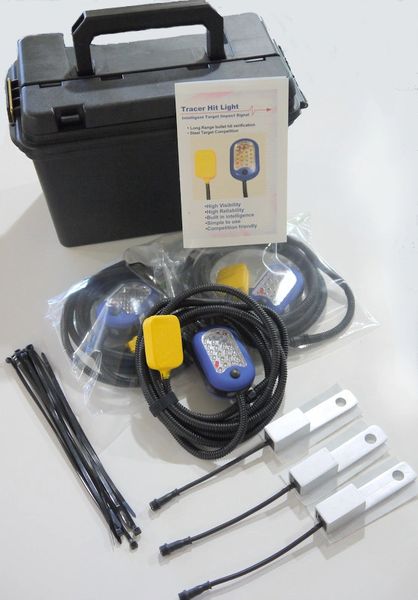 Temporarily out of stock. Tracer Hit Light Club Pak
Temporarily out of Stock
Make the shot.....see the light !

Save 20% with the Club 3 Pak
A must for formal or informal competition
Get positive

target hit feedback using 23 bright LED's and reflector. Flashes 3 times for positive feedback. (Custom number of flashes or patterns available. Email us for details)

Built in intelligence lets you know from your shooting position that all is ok, or if not flashes S.O.S. if the cable has been damaged or batteries are low.

Redundant LED's, redundant cable wiring and built in diagnostics makes this hit indicator uniquely reliable and competition friendly.

Magnetic attached sensor for minor calibers
Bolt-on or Hook and Loop attached Sensor for major power factors
Simple one button operation

Light attaches using built in hook or magnet
See "How It Works"

Intelligent Target Impact Sensor Package includes (3) Tracer Hit Light, (3) cables, (1) Large Storage/Field Box, Tie Wraps, Batteries, instructions and choice of (3) sensors in any combination of Magnetic or Bolt-On/Hook Loop attached.
$14.99 shipping