Top Focal Shooting Glasses by SSP Eyewear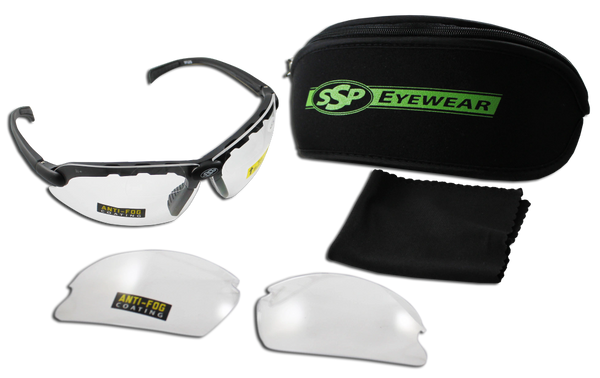 Top Focal Shooting Glasses by SSP Eyewear


The number 1 selling Top Focal kit

 in clear lenses.

  
The kit offers the user a tremendous amount of flexibility to improve your shot.  
Professional marksman requested a design that would have a top focal on one side of the safety glass and a plain pair of lens on the other side.
What it does:
Rifle -
Allows Rifle shooters to view through scope with the dominant eye and use top focal to see Turret markings clearly with non-dominant eye through top focal (magnifier).  

Pistol - Allows viewing the front sights with the dominant eye through the top focal (magnifier), and the target with the non dominant eye without any correction
Top Focal clear kits (dominant eye specific)
Top Focal kits have the magnifying portion at the top of the shooting glass 

for

 front sight acquisition

 (right eye, left eye, or both eye dominant)

Interchangeable lenses allow you to personalize the shooting glasses to 

view both your front sight and the target 

according to your individual preference.

Standard non magnifying lens, allows you to

 view the target

 with your non dominant eye

The kit includes a neoprene zipper pouch with 2 sets of permanent anti-fog lenses, a microfiber cleaning cloth and lens changing instructions.
Please choose the correct magnification power 

 1.50, 2.00 

 (this is the same magnification you would use for your reading glasses unless you have long arms.  (Long armed individuals may go down one full power as your focal point is further than your normal reading distance) Note for best results we recommend testing with different power reading glasses at a drugstore and focusing on the tip of a pencil at arm's 
length.  
NTOA (National Tactical Officers Association) approved & recommended

Designed for pistol shooters and instructors allowing for in-focus view of front site

Allows Rifle shooters to view through scope without Top focal on dominant eye and use top focal to see Turret markings clearly with non-dominant eye. 

Other users include mechanics, electricians and anyone doing overhead work

Exceeds ANSI Z87.1+2010 specifications for high impact protection

Anti-fog coating, is double sided & permanently bonded to the lens, lasting 65% longer 

Feature optically correct, decentered, shatterproof, polycarbonate lenses to virtually eliminate distortion

Offer sharp peripheral vision, without any blind spots

Permanent durable anti-scratch hard coating

Provide 100% protection from harmful UVA/UVB rays

Tough nylon matte black frame

Anti-Fog venting between the frame and lens

Rubber nose and ear pads

Fits narrow, round, and up to XL faces

Top Focal is 3/8 inch from the top of the frame down by 1-1/4 inch wide

Frames are 1-3/4" tall and 5-3/4" wide at the front
Weight is 1 oz