Custom Laser Engraving on your Scope Sunshade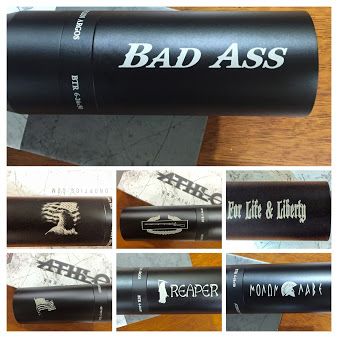 Custom Laser Engraving on your Scope Sunshade
Personalize your Shade!   Make it your own.  
You will have to "clock" your sunshade to your scope....I will show you how.  This is because each scope is different as to where the threads start.  You email me what image and or text you want on it.  I will work with you to refine your image then engrave using the clocked markings on the sunshade you ship to me.  

Click to email with questions or ideas for engraving.
Shown is an Athlon 50mm Sunshade that fits the Athlon Argos BTR 6-24x50 model scope which can also be purchased engraved or blank here. Athlon Scope Shade Purchase