D.F.A.T. Dry Fire training adapter...On Backorder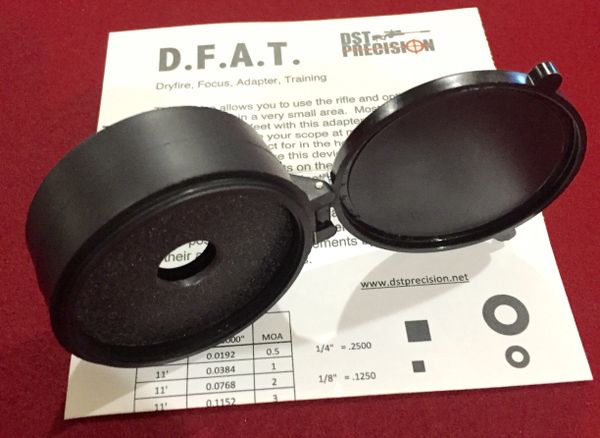 D.F.A.T. Dry Fire training adapter...On Backorder
Due to High Demand this item is on temp backorder. We expect more stock by April 30.
D.F.A.T. Dryfire, Focus, Adapter, Training
Focus on perfecting shooting skills.
A product of DST Precision (Training & Products)
This device allows you to use your rifle and optic to dry fire practice in a very small area. With this adapter most scopes can focus from 11-15 feet. With proper lighting you can use your scope at maximum magnification.
Perfect for use in the house, garage or small backyard.




Use this adapter to practice different positions, balance points, with/without sling or with various support bag combinations.




The D.F.A.T. can be extremely valuable in determining how small of a "wobble" that can be made in non-prone positions.




Understand your abilities and learn to improve by dry firing on known "MOA" size targets.




Fits many scopes using the

Butler Creek #44 (60mm) and #51 (64mm) scope caps.

Includes instructions and target size conversion table