Bolt Shroud Custom Engraving for Ruger Precision Rifle (Shroud not Included)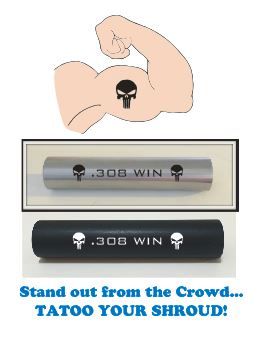 Bolt Shroud Custom Engraving for Ruger Precision Rifle (Shroud not Included)
Do not use this option if you are also purchasing a replacement shroud.  




If you are purchasing a new replacement shroud, you can choose optional engraving when placing your order. 




Use this option to send in your Titanium or Anodized Aluminum RPR Bolt Shroud for custom engraving.

YOU choose what you want on it.  We will work with you to make it happen.    




We will send you a padded pre-paid envelope to send in your existing shroud for engraving. 




Price includes shipping both ways.  




Include a description of what you want engraved.  I will contact you by email to finalize the design. 



Questions?  Send an email to info@tracerhitlight.com
You can also customize our premium offering...the "Don't Tread on my RPR" design which was commissioned exclusively for us.  Add your first name as the puff of smoke out of the barrel and choose your own text for above and below the line.